Do you need to have your passport reissued because of some mistakes in your name or because you got married? Are you confused by the number of passport application forms and not sure which one is for you? Our brief post is here to help you find the answers quickly and without worries!
Form DS-5504 vs. DS-11: Overview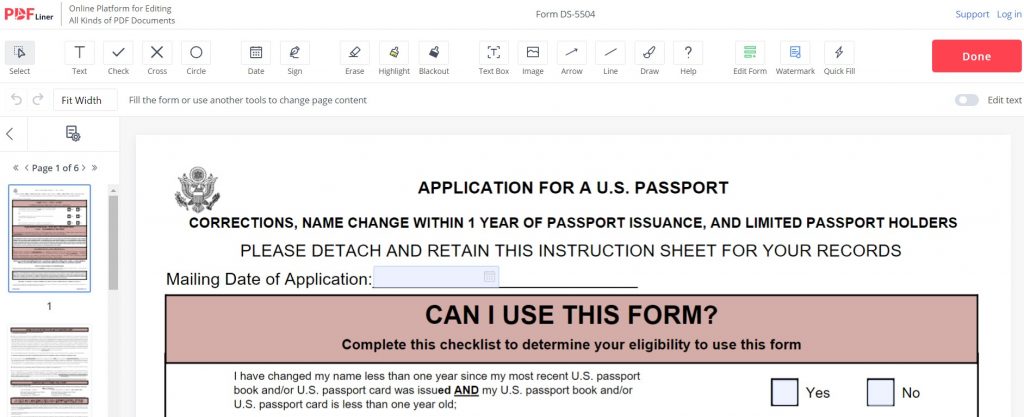 The DS-5504 Form is used for correcting the data in your passport that was mistakenly entered, for changing your name after getting married, or if you had your passport issued in countries other than the United States or Canada, and is valid for one year or less.
Obligatory requirements for the DS-5504 Form application is that your current passport should not be more than one year old, and you can submit its original for replacement. Also, you will have to provide legal evidence for your name change: either your marriage certificate or court order.
The DS-11 Form is used in cases when you changed name together with your marital status, but have no legal proof for such a change. Use DS-11 if your passport was stolen or lost, if you are younger than 16 years old or was younger than 16 when you got your recent passport. The primary purpose of the DS-11 Form is the application for a new U.S. Passport that you want to get.
Filling Out DS-5504 vs. DS-11 
It is better to fill out the forms electronically and print them out. Both forms will require your names (first, middle, last, and other ones), date and place of birth, phone number, email, and address (mailing and permanent, if they differ).
Then you will need to provide some biodata like hair, eye color, height; social information about your occupation (for those older than 16) and employer or school (if applicable); additional phone number and details of the person who should be contacted in case of emergencies.
In the DS-5504, you will have to answer several questions about the reason for a name change, while DS-11 asks you some details about previous (if any) passports.
Please be informed that you can forward DS-5504 by mail with all the supporting documents; however, DS-11 can only be handed in personally at the local passport collection facility. Also, DS-11 can be signed after you get confirmation from the officer. 
FAQ
Which Form do I need: DS-5504 vs. DS-11?
You will use a DS-5504 Form for correcting printing errors in your passport. Before your passport expires, you can have it corrected for free. In case you got married (or divorced) and need to change your name, you can have your passport replaced with the DS-5504 Form, provided that you have the legal document proving the changes.
However, to do that, your passport should be issued during the last twelve months. Use a DS-11 to apply for a brand-new U.S. Passport, or if yours was issued 15 or more years ago, if you lost your document or it was stolen, or if you cannot provide the legal evidence for changing the name.
Remember that the DS-11 Form requires your personal presence when submitting the application, while you can send the DS-5504 together with all the required documents by mail.