When it comes to traveling, the first thing you need to have is a valid passport, verifying your identity and citizenship. However, the application process may seem complicated because you have to choose the correct passport application form depending on your situation. Our article will help you understand how to apply for a brand-new passport as well as renew it.
Form DS-11 vs. DS-82: Overview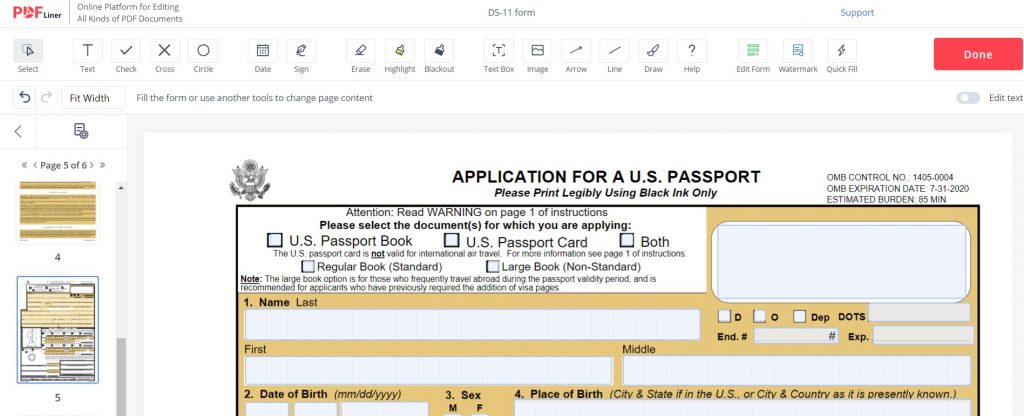 You will use a DS-11 form to request for a U.S. Passport Book or a U.S. Passport Card if:
It will be your first U.S. Passport.
You are younger than 16 y.o.
You were younger than 16 y.o. when you got your current passport.
Your current passport is 15 years old (or older).
You lost your passport, or it was stolen.
You changed your name(s), and the supporting documents are missing.
You need to remember that the applicant must personally bring the DS-11 form (together with the documents) to a passport acceptance point.
DS-82 form is used when you need a passport renewal in the cases below:
You have the original of your most recent passport.
You were older than 16 y.o. when your first passport was issued.
You got your previous passport less than fifteen years ago.
Your passport has a standard 10-year validity period.
Your name is the same as stated on your current passport, or you have an official document for its change.
Luckily, the DS-82 form can be sent via mail, together with all the required documents.
Filling Out DS-11 vs. DS-82
A DS-11 form can be filled out beforehand but must be signed only when the officer tells you to do so at a personal interview. You will have to state your first, last, middle, and other names; provide your date and place of birth, SSN, email, phone number, and mailing address.
Also, you fill out the information about your parents, employer (or school), marital status, and some biological data. Then you will add your itinerary details, permanent address, and emergency contact. In the last section of the form, you give some details about your most recent passport book.
In the DS-82 form, you will mention quite the same information, except for the passport status. Also, the DS-82 form will show you the list of addresses to send the pack of documents for a procession. Please note that handwriting on the forms may delay its execution, so it is better to use the Form Filler tool on the official sites and have the form printed.
FAQ
Which form do I need: DS-11 vs. DS-82?
If you need to get your first U.S. Passport or U.S. Card, you will use a DS-11 form. Typically you will have to use a DS-82 for a passport renewal, but there are cases when you still need to apply with the DS-11 form. For example, if your passport is damaged or lost/stolen, you use the DS-11 form again. If your document was issued 15 years ago, you would go the DS-11 route. Or, if you had your child's passport (valid for five years) before you were 16 y.o., apply with DS-11. In case you got married, changed your name, and have the documentary proof for it, you use a DS-82; otherwise, you follow the DS-11 procedure.