What is 1040 NR vs 1040 EZ? If you've been Googling this tricky question extensively, then you've come to the right place. In this post, we're going to cover the issue in detail and answer our readers' most frequently asked questions. Read on, and don't forget that PDFliner is your go-to place when it comes to finding (and completing) most tax forms. No more paperwork!
What is 1040 NR vs 1040 EZ?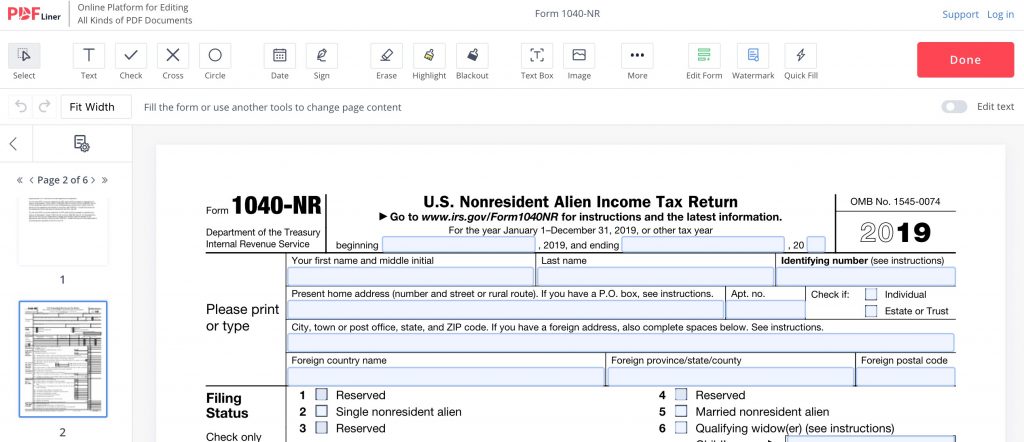 Now, we'll begin with the form 1040-NR. This doc is meant for completion if you're a nonresident alien who's been earning money from the U.S. throughout the current tax year. In case you're a relative (or authorized representative) of a deceased individual whose responsibility was to file this form to the IRS, then this mission is yours to complete now.
If you're among those nonresident aliens who are confident that they don't owe any tax, it's time to reconsider this misleading thought. What if more than necessary is being withheld from your paycheck? What if you qualify for a hefty tax return? Sort out the issue for your own good. Submitting this file to the IRS is not a very hard task. However, if you face any difficulties during its completion or submission, always seek professional help.
Now, when it comes to the form 1040EZ, it's not for nonresident aliens. Bear in mind that in 2017, this form, along with forms 1040 and 1040A, was united in one updated Form1040. Therefore, form 1040EZ can no longer be used. When this form was in use, it was meant to make the filing procedure easier for U.S. residents with non-complicated tax circumstances. We hope that it makes the 1040 NR vs 1040 EZ issue a lot clearer for you.
1040 EZ vs NR: Instructions & Tips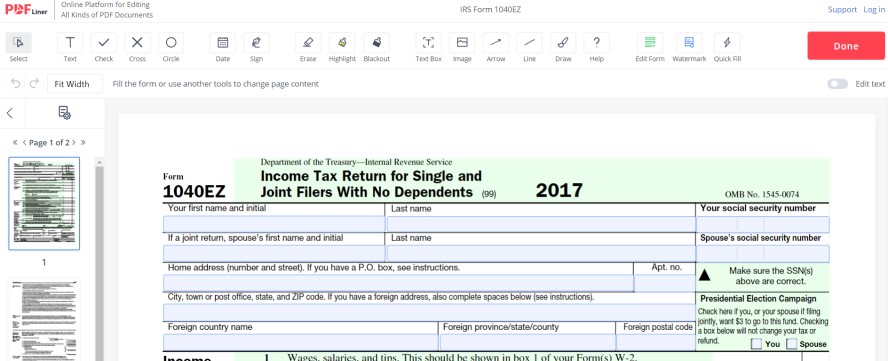 Form 1040 NR features five pages where you should indicate your personal details, as well as details on your U.S.-sourced earnings and immigration status. Make sure you maintain laser-like focus when you complete these types of tax documents. You don't want to make any typos or downright errors in your 1040NR or submit it without adhering to the deadline, for it may result in penalties and sanctions. Opt for PDFliner when filling out your 1040NR form. It's easy, safe, and 100% paperless.
Now with regard to the 1040EZ, it used to be a one-page doc only. The upper part, where you had to put your personal information, was the easiest to complete. The rest sections (where you had to report your income and claim credit) often seemed tricky to our audience — that is, based on the questions we received from PDFliner users. That's why we always recommend our readers to get in touch with tax pros for assistance. In any case, form 1040EZ is no longer in use, so you probably have more important tax-related stuff on your mind these days.  
FAQ About Forms 1040 NR and 1040 EZ
Have questions left about form 1040NR or 1040EZ? You're welcome to contact us with them. We'll get back to you with answers as soon as possible. Our experts are always eager to assist you in your tax-related affairs. Below, you will find the answers to our readers' most frequently asked questions. As your questions arrive, we update this section with more answers. So make sure you bookmark this page to get back for further updates.
1040-EZ vs NR: which form do I need and when?
Since form 1040EZ is no longer in use in its 2017 version, we'll briefly touch upon the 1040NR. Form 1040NR is a must-file if you're a nonresident alien who's engaged in business affairs (read as receive income) in the United States. Submitting this form is especially vital for people aimed at reentering the U.S. Always triple-check your tax-related deadlines from official sources.