Today I'm going to go through the Ontario Real Estate Association Rental Application Form 410 and how to best situate yourself in the lease or rent a house.
I personally believe that the safest and best way for you to visa a house is to go through the form with a local realtor. They will be there to find you exactly what you are looking for as well as make sure your rights as a tenant are being protected.
Filling out OREA Form 410
Let's take a look at a rental application here. I'm going to break it down in sections for you.
This first section goes over the place, the time, and the amount. This is followed by the applicant's name, birthday, driver's license number, occupation, sin number, and other occupants that will be living in the house like children.
The second section is the last two places of residence which include the address, date, the name of the landlord, and their phone number.
The third part is where your present and prior employment go. You will need the name of the company, the address, the telephone number, what position you held, the length of your employment, the name of your supervisor, and your current salary range.
Next, you will need the name of your bank, your branch number, the address, and your checking and savings account numbers. Under that, you will write down any financial obligations you have such as a school or car loan.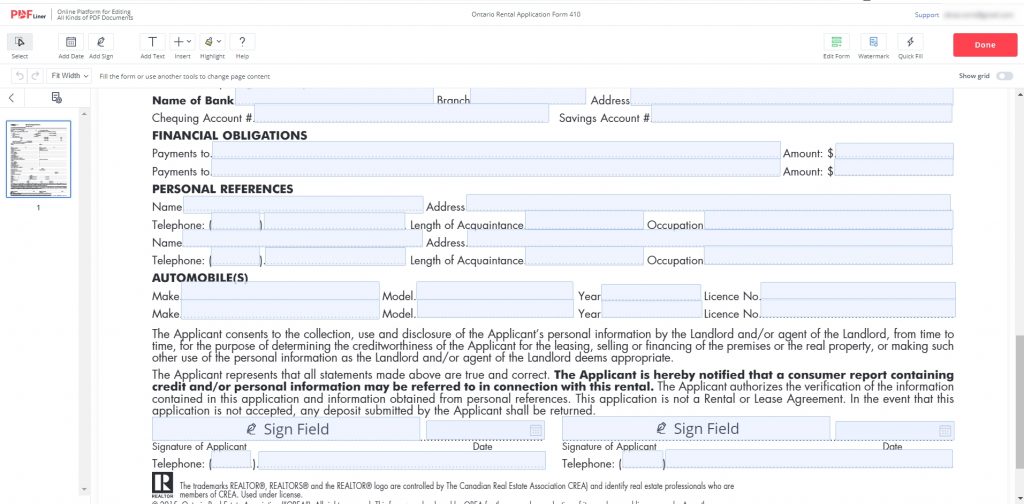 Then we get the personal references, this can be personal or professional, and you will need to have their name, their address, their telephone number, the length of the acquaintance, and their occupation.
Next, write down the make model year and license plate number of any vehicles that will be staying on-site. This disclaimer says that you are giving permission to the landlord or the landlord's agent to use the above information to check your creditworthiness. It also states that by signing below you agree that all information above is correct. 
To save yourself from possibly getting a mark against your credit rating, I always suggest people go to an online site like PDFLiner, and it's really easy to obtain and fill out the form there. After we've found that house you'd like to rent, and we have all the needed paperwork, you can then do up and offer to lease. Negotiate the best terms and the fairest price it's really that simple, so if you have any questions please feel free to ask.